Entrepreneur
Entrepreneur and Best-Selling Author Turns Tragedy to Triumph With Latest Book on Mental Health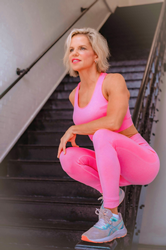 "Life is what you make it, and bouncing back from adversity relies on the warrior within each of us. Commanding your mental and physical health is just the beginning of claiming your inner warrior."

TAMPA, Fla. (PRWEB)
May 26, 2022
With her insightful new read, Claim Your Inner Warrior: How to Live a Life of Courage and Unleash Your Personal Power, high-performance coach Kate McKay shifts the discussion around men's mental health. McKay's male-centric book lays out the roadmap to powerfully claim the life her readers envision in her no-holds-barred style.
The tragic losses of McKay's son and brother inspired her to speak on the need for self-care and the toxic stigma around men's mental and emotional well-being. McKay's latest work shows readers how to kick stress to the curb, (not) quit, live powerfully and much more. She hopes that Claim Your Inner Warrior inspires and helps others dig within to live their best lives.
For decades, addressing mental health has held people back from being their whole selves, especially men. "Life is what you make it, and bouncing back from adversity relies on the warrior within each of us. Commanding your mental and physical health is just the beginning of claiming your inner warrior," says McKay, whose latest book shatters conversational barriers to guide readers toward the life they have always wanted.
Claim Your Inner Warrior is now available as an e-book for $1.99 and a paperback version is available for $12.99. You can get your copy on Amazon here: https://www.amazon.com/dp/B0B1RZVPLD. A book signing is scheduled for June 5, 2022, at Unity of Gulfport. All proceeds will go directly to the Without Walls ONE Reach Food Pantry, serving local schools and families. Unity of Gulfport is located at 5500 Shore Blvd S. Gulfport, FL 33707. McKay and her team are open to media and publicity opportunities. Interested parties should reach out to kate@kate-mckay.com.
About Kate McKay

Kate McKay, Master Motivator is a best-selling author, multimillion-dollar business owner, lifestyle expert, business consultant, fitness guru, transformational speaker, high-performance coach and a single mother of three. McKay is committed to inspiring others to live a life with greater clarity and sense of purpose. For more information, please visit http://www.kate-mckay.com. You can read her blog at http://kate-mckay.com/blog. Connect with McKay on Facebook at https://www.facebook.com/katesmckay, on Instagram at https://www.instagram.com/iamkatemckay/ and on Twitter at https://twitter.com/katemckay18.
Share article on social media or email: